Pakistan is ranked 4th in the most polluted countries in the world, with particulate pollution of 44.2. Prolonged monsoon spells and dangerous heat waves in the summer period are some of the aftermaths of pollution that inadvertently causes climate change. While these are some indirect effects of pollution building up over the years, we can see air pollution clear as day, directly impacting children and adults alike in one of the major cities of Pakistan, Lahore, and its surrounding areas. 
The city, home to 11 million people, is at the top of the list when considering the most polluted cities in the world. Every winter, Lahore is presented with the worst case of smog – fog intensified by smoke and atmospheric pollutants – and it worsens every summer. These pollutants can be directly attributed to the increasing urbanization and industrialization within the city. Industrial activities, burning of fossil fuels, vehicular emissions, and burning of coal in thousands of brick kiln factories across Punjab are all to blame when it comes to compounding Lahore's pollution problem.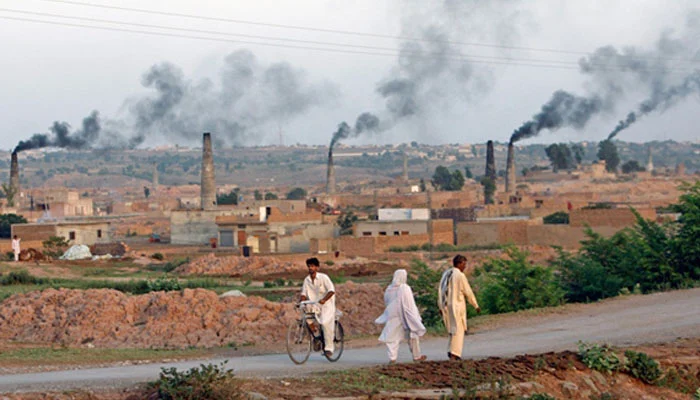 While the smog is adversely affecting everyone in the city, children are the ones suffering the most. Not only is their health being severely affected as a result of the early morning smog but also their education. 38% of the children are reported to be suffering from sneezing, runny noses, or nasal blockage without common cold or flu, 19% had itchy watery eyes, 17% had hay (allergic) fever, 13% had wheezing, 12% urticaria, and 7% asthma. With these conditions rampant in every other child in Lahore, it only made sense to ensure their safety in any which way possible, even if it meant shutting down schools. In the last month, more than a week's worth of holidays has been granted to the students in order to protect their health.
At the beginning of December 2022, the Punjab Government proposed to shut down schools three days a week. Provincial School Education Minister, Sardar Murad Raas, spoke against it and explained that the teacher's union shared his opinion since halting education three days a week would result in substantial academic loss. Reducing school hours was proposed as an alternative in order to avoid the loss, and it was favored by the stakeholders in the educational sectors as well
In between all this, the safety of children trumps everything else, and it is important that we protect their future as well. Hence, we must all take a step towards ensuring a quality life for the generation that follows us. The government and judiciary are actively involved in ensuring that the smog situation improves over time, including issuing warnings to and demolishing the hazardous brick kiln factories across Punjab.
We as a community can also aspire to be environmentally friendly in order to effectively combat the pollutants that are putting the lives of children and adults at risk. Organizing and taking part in tree plantation drives, recycling, and reducing the use of cars where we can are just some of the ways we can participate as concerned citizens or parents.
With the increasing importance of addressing the issue of pollution in Pakistan, we at GLOWSIMS will do everything in our power to ensure Pakistan is a country that continues to offer uninterrupted opportunities to future generations that aid them in excelling in life.